Here's what my couples say…
Just another thanks for being our celebrant last week… the day was everything we wished for plus more! We appreciate everything you have done for us. J & C June 2022
Thank you for being an absolutely lovely marriage celebrant! 😊We are very grateful for your patience and for your calm presence that really made the whole process so enjoyable and stress-free.  I & K March 2022
Thank you for conducting our wedding ceremony. Despite the challenges COVID and the weather presented, we were really happy with the service and your help in the lead-up to the day. Thanks again. G & J Nov 2021
Judy, thank you for being so patient & understanding towards us and our visitors during our wedding. We wouldn't be able to make it happen without you. Thank you so much… E & V Nov 21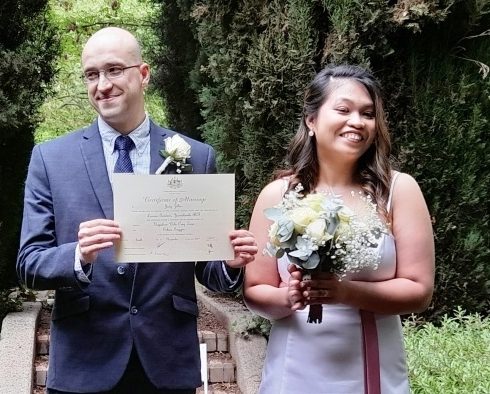 We would like to say a big thank you for your kind help and organization. C & W Sept 21
We had a wonderful day- a private, stress free celebration was exactly what we were after. Thank you so much for stepping in, we both appreciated you taking the time. N & J Sept 21
Thank you so much Judy! We are truly grateful we got to spend our special day with you. M & O July 21
THANK YOU so much Judy, for your support! S & S Jul 21
It was a beautiful day with beautiful people. N and I are so grateful for having you to witness that special day 🙂 J & Q Apr 21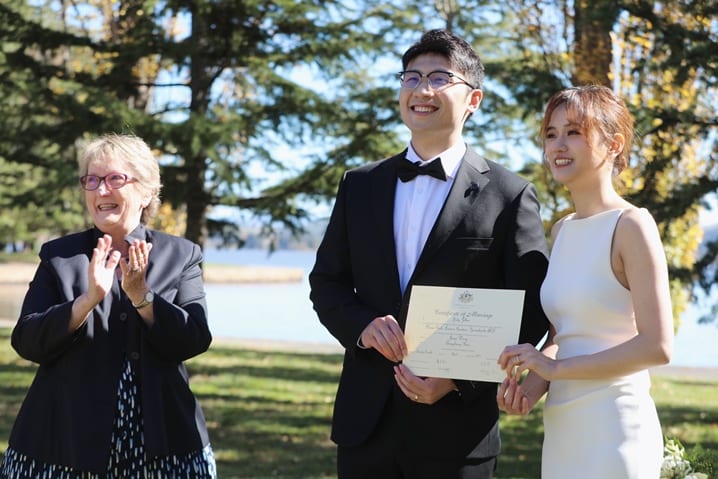 Thanks you so much for everything you did to make the whole wedding process easy and stress free, we really appreciate it, and the ceremony was a beautiful way to finish. M & D Apr 21
Thank you so much for our lovely ceremony, everyone commented on how much they enjoyed it! M & J March 21
Thanks for making our wedding day a joy! C & C March 21
Thank you for such a great service! We really appreciate how helpful and accommodating you were throughout the process. S & A Feb 21
Thank you so much for how accommodating you were through the (wedding) process… J & N Nov 2020
Thank you for being part of our special day! B & Q Sept 2020
Thank you so much for making our day so great and perfect yesterday! And your advice and reassurance throughout the weeks leading up to the ceremony really helped us. ❤️ Everything was perfect and it was because of you!  Thank you so much! J & N Sept 2020
Judy, thank you again for making our day wonderful! Jess, Aug 2020
Thank you again for all that you've done for us as a family. We truly appreciate it. L & S June 2020
Judy was fantastic, above and beyond helpful and accommodating throughout planning for our wedding. Highly recommended for weddings big or small. J Apr 20
Getting married during a global pandemic was a bit stressful, but Judy was fantastic throughout and made it happy. We're grateful for her help and couldn't be happier! L. Apr 20
On behalf of M and myself we want to thank you for permitting us to celebrate our wedding in your home. Your kind and gracious act permitted us to get legally married under these extenuating circumstances. Thank you for your warmth, kindness and good will. We were so pleased that we chose you as our celebrant. You are a true exemplar of your profession.
E & M   March 2020
Judy is a phenomenal celebrant! She listens, observes and truly cares about your relationship and ceremony. We laughed, we cried, we felt like she was only a celebrant for us, which is just what you expect but rarely get. I couldn't rate her highly enough! Thank you Judy! We adore you xx
Rach & Nick Jan 2020
Judy was a fantastic celebrant. We are thrilled with the service she provided. After deciding to be married shotgun style, after being together for three years, we met with Judy and decided the legal only ceremony package was the one for us.
The ceremony was exactly what we wanted, and Judy walked us through the entire process. As we wanted to exchange rings, Judy altered the service for us to suit to our exact requirements. We were even able to include our cat! Judy made everything so easy for us, and absolutely made our special day! We highly recommend Judy as a celebrant. Thank you Judy! Jan 2020
Judy, thanks again for everything. It was great! We had a great day! K&D Nov 2019
Judy was extremely helpful.
Erich´s first marriage, my third, she gently guided us through the pitfalls of bureaucracy and made us feel very good about our marriage.
She smilingly dealt with exuberant theatre people, a three year old wanting to go for a swim in the middle of the proceedings, us not realizing that the ceremony was not concluded yet, relatives yelling into mobiles from overseas (The mobiles were being held upside down and they had to stand on their heads to see the ceremony) – all these possible obstacles and disturbances were encompassed, sorted out and taken on board. We cried, we laughed, Judy helped us through it all! B & E Dec 2012
A huge thank you to our wonderful celebrant Judy Zilber for making our dream come true …she is an amazing lady who from start to end has made sure our day went off without a hitch…Judy you will always have a special place in our heart. Rose & Lutz Nov 2019
Bryce and I we really appreciate your kind and warm reception, your efficiency and helping us with the witnesses, and providing the best service we felt very comfortable 🙂 thank you!!!!  Bryce & Pia Sept 2019
"Thank you so much for the wonderful ceremony. It went so beautiful and exceeded our expectations! Thank you for helping us create such a memorable and meaningful day! We couldn't have such a magical memory without your help! We are truly so grateful for your important role in our day!" E & K Mar 2019
"Thank you so much for a beautiful day". M & M Nov 2018
Judy thank you for your lovely ceremony. A & J Nov 2018
Thanks you for helping with our Marriage Ceremony last Saturday. We had a wonderful and memorable day! Thanks again. D & H July 2018
Thank you very much again for being our celebrant you made it all so easy for us and everyone loved our vows! R & M 2017
What a wonderful day. We could not have asked for anything more, it was perfect. You took care of everything. So all we can say is THANK YOU! Andrew and Jess July 2014
Thank you very much. It was a lovely ceremony – I think it actually fitted us very well.
Tom and Yoko June 2010
Thank you so much for what you did for our marriage ceremony. We had an excellent experience last evening. T and G Feb 2019
Thank you for the beautiful ceremony. Your kind words and personality shone through adding so much to our special day. Kirstie & Angelo Feb 2014
Thank you so much for being our celebrant and sharing our day with us – you were wonderful. Jess & Sean FEB 2014
Thank you for conducting our ceremony. It was much better than anything we could have asked for. C & S March 2014
Thank you so much Judy for making our wedding day so fantastic 🙂 you are amazing and you made our day perfect 🙂 Krystle & Don OCT 2014
I can highly recommend Judy. She made our ceremony very personal and special. Nothing was too difficult for Judy and her assistance with preparing our ceremony was invaluable. Dan & Kyla  Oct 2012
A marvelous wedding did you conduct
With relaxed atmosphere and tradition ducked
Dr Seuss and Hawaiian a really good mix
Fond memories firmly affixed
A memory to cherish did you impart
For our life together a fabulous start.
Gary and Sharon Nov 2012
We wanted to say a BIG thank you. The day was just perfect and thank you once again for marrying us.
D & S
I recently attended a wedding ceremony conducted by you for a friend of mine and I was so impressed with your kind smiles and your professional yet simple style of conducting the ceremony. I would like to invite you to be our Wedding Celebrant.
L & A
We are really lucky to have you as our Wedding Celebrant. You recommended a good place to have our wedding ceremony. We really appreciated your help and support. Thank you so much.    J and Y
We knew we wanted to get married in Perth (my home town) but we didnt have a celebrant there. Judy sat down with us and explained everything and drew up our NOIM. She organised to transfer the NOIM when we found our celebrant in Perth. Even though she didn't perform our ceremony she helped us a lot when we needed it and we will always be grateful. Anthea & Ken
Thanks for doing such a great job on our wedding day. Will definitely recommend you to others. S&T
It was our delight and pleasure to have Judy Zilber officiate at our recent wedding. Judy was extremely warm , co-operative and encouraging through the whole process …from the initial discussion(a surprise wedding at a birthday party) right through to the end of the wedding.Judy is well organized , listens to what you would like to include and works with you to make the day run smoothly and accommodate your requests. Her gentle and friendly spirit comes through in her relaxed and considerate manner. It would be our delight to recommend Judy to anyone considering using her services at their special occasion. You won't be disappointed.    Peter & Sue. MARCH 2013
We both can't thank you enough for helping us over the past 10 weeks with our wedding ceremony. The ideas you had, the way you let us incorporate our children into the ceremony and the classy way you presented on the day was unbelievable. We have had several guests in the day say what a fantastic job you did … And we totally agree !! The "Dr Seuss" wedding vowels were a massive hit! Thanks again and we'll be sure to recommend you to any of our family and friends who plan on getting married in the future.Ben and P'Trece
We would like to thank you for the lovely ceremony and the way that you conducted it. Your friendly manner made Audrey and myself feel at ease with all the arrangements that we made with you. All the advise that you gave with the ceremony made everything feel simple and nothing was too much trouble.Audrey and Danny
Many thanks for your help and support in the weeks leading up to the wedding as well as on the day. We really feel like your personalised touches helped make the day as special and personal as it felt to both of us. We would happily recommend you to anyone needing a celebrant. John & Rachel
Judy, Thank you so much for performing our wedding ceremony! You were truly awesome and we will be recommending you to everyone!  Mandy & Heath. Feb 2015
Thank you Judy for you help in organising our wedding ceremony. We are very grateful for all your assistance. We were honoured to have shared our special day with you."  T & T Apr 2019
Judy you were extremely helpful and your service was top notch. Couldn't have done it without you. Thanks for everything.
Mike and Laurie
Thank you Judy, you were wonderful.     Mick & Mel Nov 2018
Thank you again for everything Judy! You made our (wedding) so much easier and kept me together! …. You are the best Celebrant in town! Nick & Amy Nov 2017
Thank you Judy for being part of our special day and making it memorable. I really appreciated your patience! P and J Sept 2017
Judy made organising our wedding ceremony very easy, especially as we are not living in Canberra. She provided a wealth of information about weddings, was thoughtful and very practical. I would recommend Judy as a celebrant to anyone wanting a professional, helpful and lovely person for their big day. R & N May 2017
Thank you Judy and roadie who made our wedding day so special to us. The ceremony was just perfect for us. All the guests thought it was so lovely. Once again thank you for making our day perfect. D & P   Mar 2017
Thank you so much for agreeing to be our celebrant. You made it easy and enjoyable! Bec & Rok Nov 2016 
Judy is warm, patient and experienced as a wedding celebrant. She helped us choose wedding venue, gave advice of what to bring, and provided a variety of ceremony procedures for us to choose. We had a great time at the wedding, and we appreciate her help. H and Y Sept 2016
Thank you for being a part of our wedding day. It was exactly what we were looking for if not more.
Nathan and Sai. Sept 2016
Judy is a lovely lady and was a fantastic celebrant for our wedding. She was quick to reply to emails, was very prompt and efficient in organising the required paperwork and ensured the ceremony ran smoothly. Judy created a lovely booklet with our vows that was personalised to us. We would highly recommend Judy as a marriage celebrant. N & J May 2016
Thank you so much for being our marriage celebrant. We are very honoured and we enjoyed every moment we spent with you. Thank your once more for the great service you provided us. J and R. April 2016
Thank you so much, Judy. Your words were just perfect – such a lovely ceremony! Bron & Justin Apr 2016
We would like to thank you for your part in making our day very special. You have a professional approach Judy which impressed us immensely, and because of that, we have fond memories to last us a lifetime. Can't thank you enough.  G and O Apr 2016
It was our honour to have you to be our wedding Celebrant. We are so pleased and surprised to see such a lovely wedding filled with all the details that reflect your caring nature. Kathy and I would like to express our gratefulness to you! David & Kathy Apr 2016
Thanks so much for all your help with our special day!! Everything went unbelievably smoothly. Very greatful. Highly recommend.
M & K Nov 2015
On behalf of both Jane and I, just would like to say a big thank you for the wonderful ceremony yesterday. Both Jane and I have really enjoyed the special celebration and the nice wedding card. Shaun & Jane Nov 2015
Judy was courteous and very good. She helped make our ceremony smooth and flawless – no one could have done it better! Thank you Judy for the lovely ceremony you helped us achieve on our day. You made our day extra special! Kelly & Tim Feb 2015
Thanks so much for todays ceremony Judy. It was awesome. All our friends were talking about the love poems you read in the ceremony, it was sensational! Amanda & Eric Aug 2015
Thank you for the fabulous job you did as celebrant for mine and Paul's wedding. Not only on the day of the wedding but also in the months leading up to the wedding when you were very helpful in giving advice and helping us prepare for our special day. Thank you also for having a tissue ready for Paul to dab his eyes! It made for a humorous and light-hearted moment in the ceremony. I will recommend you (very highly) to anyone seeking a professional, helpful and lovely nature celebrant for their wedding. Jane & Paul Mar 2014
Thank you Judy for making our day AWESOME!
Dave and Alex Apr 2011
I would just like to thank you again for all your wonderful help leading up to and on our wedding day! Your suggestions and guidance was very much appreciated as was your willingness to let us really personalise our ceremony! The whole day was absolutely perfect and everything I had hoped and dreamed it would be.Belinda & Dan
Judy was the perfect celebrant for us. She accommodated all our special requests and kept us on track to ensure our ceremony was personalised and ran smoothly on the day. Charmaine & Chris
Thank you thank you so much for being our celebrant. I was not nervous until the morning when we walked into the ceremony hall. I kept talking to you and you were making me calm. I couldn't have done it without you. Clair and I would like to thank you! John & Clair Dec 2017
My husband and I could not speak more highly of Judy who married us back in April 2015. Judy made the process for us as easy as possible, including supplying a range of different vow options, suggesting wedding vendors and always responding quickly. Thank you Judy for your fantastic work. Lyndal and Dave April 2015.
Wait, there's more….Renewal of  Vows Reviews
Thank you for conducting our ceremony It couldn't have been nicer.
RS
Many thanks Judy for the wonderful ceremony we had in reaffirming our marriage vows.
A & S
We wouldn't have had anyone else conducting the (Renewal of Vows) ceremony…we think you are the best celebrant in Canberra!
R & J
Thanks Judy, the ceremony was lovely, you did a great job (with our Renewal of Vows ceremony). The certificate looks so beautiful. I will certainly recommend you to others.
Carol & Damien Apr 2017