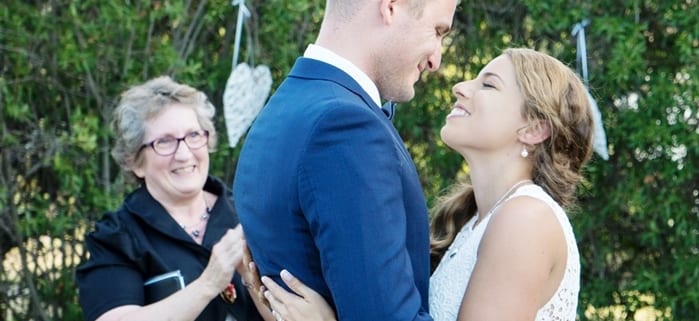 CONSIDERING which wedding suppliers to engage for your wedding.
CONSIDERATIONS … How to help your wedding suppliers help YOU!
Your wedding is all about YOU and what you want for your celebration. Here are some of observations of things you can CONSIDER when looking for and booking your wedding suppliers, helping to make your choices easier and your wedding suppliers super helpful with your wedding plans.
As a Marriage Celebrant of many years, having conducted hundreds of marriage ceremonies here are some ways you can help 'us' to help make your planning and ceremony go smoothly…
Always have a great 'PLAN B' for your outdoor ceremony in case the weather is horrible on the day. Be prepared to use it! When deciding your venue, consider that many open spaces can create a very poor venue when the weather is not ideal.
The Bride and bridal party may only need to attend the wedding ceremony for 20-30 minutes but your guests and your Celebrant will be at the venue longer than you!
Is there enough shade for everyone? You don't want your guests looking red, hot and flustered in your wedding photos because they had to wait in the full, hot sun. Sometimes that may be all they remember from your wedding ceremony! Similarly, are you going to keep them waiting outside in the freezing cold?
The poor weather may also contribute to the presentation of your ceremony – wind will blow the decorations around and ruin your styling and your hair; cold, jittery weather may impact on the voices of your Celebrant and anyone else having to speak during your ceremony.
If you need to 'make the call' about moving your ceremony to 'PLAN B' on your wedding day be considerate of where your guests and your Marriage Celebrant will be kept waiting.
If you change the TIME for your ceremony remember to tell your Marriage Celebrant! You would be surprised how many times a Celebrant has been set up ready to go to then have to wait an extra hour for people to arrive… because the Celebrant wasn't informed of the time change.
Your Celebrant may also have booked another event to fit in with the time that you have given them for your ceremony. Any changes to this time may impact on a Celebrant getting to their next event in good time.
Now let's consider other wedding suppliers and how you can help them to help you with their services and products.
As a Marriage Celebrant I spend much of my time in my office writing, emailing, planning and doing office work. However, consider other suppliers who are HANDS-ON, creating their products. As I network with many wedding suppliers I hear about the considerations these Businesses need, to ensure they provide the best possible products and services to you. These suppliers may include;
Florists,
Boutique stationary suppliers,
Cake makers and decorators, and
Dressmakers
When making your plans and choosing your suppliers please consider;
While they are working hands-on with their products they may not have time to check their emails on a daily basis. But I guarantee these people will have their PHONES nearby to either answer your call quickly or for you to leave a msg which they can respond to in a timely manner. So consider not to expect immediate response to your email enquiry… allow a few days courtesy… or better still CALL them and chat.
Once you have contacted a supplier who has responded to you, it's a great consideration for you to let them know if you have chosen to go elsewhere. These are generally Sole Traders who need to know who they will be working with.
Be considerate at giving them plenty of NOTICE to allow them to order and make your requirements, thus providing you with their best service and products.
Photographers… When choosing your photographer consider comparing 'apples with apples' as they say! Meet and chat with a few whose work you've seen and like. Their technical information may not appear on their advertising media in which case you'll need to be asking them the questions. Consider asking more about the QUALITY of their images – high resolution vs low resolution; are their images watermarked, which means you then have to pay extra for copies. Use this information to determine if you are comparing 'apples with apples' to then make the best choice for you and your requirements.
And when you have booked your fantastic photographer, consider the amount of time they will be spending with you, often ALL day. They need a break too. A break between your formal photo shoot and your reception is a great consideration. You need your photographer 'switched' on and ready to quickly capture anything that happens, so offering them a short breather will help them get YOU their best results and memories!
So much more that you can consider while planning your special day! Hopefully, my observations here will assist you when considering your wedding suppliers?
Good luck and have fun!
https://civilcelebrantcanberra.com.au/wp-content/uploads/2018/11/C-L-Carillion-e1573875739400.jpg
673
699
Judy Zilber
https://civilcelebrantcanberra.com.au/wp-content/uploads/2020/01/CANBERRAINTIMATEWEDDINGS_sd3-final.png
Judy Zilber
2020-01-03 13:52:06
2020-01-03 13:54:17
CONSIDERING which wedding suppliers to engage for your wedding.